Spider-Man: No Way Home Trailer Dropped - The Loop
Play Sound
"And no one hurts my family and lives to tell the tail. Whoever they are. They will pay the price, and thier family will weep tears stained with blood!"
—Queen Catherine
Synopsis
Mary Must Resolve her Feelings for Condé
As Mary and Francis investigate who was behind the poisoning of King Henry, they unearth secrets of the past which force Mary to confront her feelings for Condé as she attempts to move forward. Catherine finds herself in the middle of a romantic triangle when the Duke of Guise (Gil Darnell) returns, which forces Narcisse to commit a hideous act out of desperation. Meanwhile, Greer finds herself in a situation she never fathomed in order to survive.
Quotes
Lady Lola: Isn't this what husbands are for?
Lady Kenna: ...Servants.
Lady Kenna: So stange isn't it. Both of us married and more alone than ever.
Queen Mary: You sound like Catherine.
Duke of Guise: Why she hasn't assassinated them while here at court is a mystery to me!
Queen Catherine: I crave sweets. Everything else tastes like metal.
Queen Catherine: So much for your investigatory skills!
Sebastian: I helped you and Claude!
Princess Claude: You're just angry with him because Diane was here.
Queen Catherine: No one hurts my family and lives to tell the tale. Whoever they are. They will pay the price, and thier family will weep tears stained with blood!
Queen Catherine: Look who survived the plague.
Queen Catherine: I heard you were back to reclaim your old post. Good luck with that.
Queen Catherine: I do as I please in my own home.
Duke of Guise: And I'm here to court you.
Queen Catherine: You say that like I've won a prize!
Queen Catherine: The fact that you heard about this from your still active network of spies, does not mean it's open for discussion.
Louis Condé: Or are we chess peices that no longer need to be moved?!
Lady Lola: Greer, have you thought of returning to Scotland?
Greer Castleroy: No!
Greer Castleroy: Would you excude me, I have to speak with the whore next door.
King Antoine: We must not be stained by the crimes of the dead, not when life and peace are so fragile. I forgive you, for the sake of your soul and peace between our two nations and my brother will do the same.
King Francis: Let it be so. May our feuds die with our fathers.
(to Louis Condé)
Queen Mary: You will be the death of me. And I of you.
Notes
King Henry, Diane de Poitiers, Marie de Guise, Queen Elizabeth, Lord Castleroy, Robert Norwood, King Antoine's wife, Queen Jeanne and Marcus de Bourbon were all mentioned but do not appear.
The Black Plague and The Italian Wars are brought up.
There was no opening song for this episode.
The long feud between the House of Valois and House of Bourbon is a heavy plot point.
Louis Condé had to visit his estate, and invited Lady Lola to accompany him.
King Antoine's wife, Queen Jeanne is dying of a tumour.
Duke of Guise returned to court after fleeing during The Black Plague outbreak.
Duke of Guise revealed he and Queen Catherine were interested in each other before he was exiled for double dealing years ago.
Diane de Poitiers is pressumed to have returned to Paris
Queen Catherine revealed she knows her son, Francis killed King Henry
Greer is seen living above a tavern, however she is not living with her husband.
Queen Mary and King Francis called off Condé and Lola's engagement, each for different reasons.
King Antoine was behind the poisoning of his cousin, King Henry
Stéphane Narcisse and King Antoine have struck up an unlikely friendship.
King Antoine is begining to court Lady Kenna
Mary admits she has feelings for Louis Condé.
Trivia
The episode synopsis was released on January 23, 2015.
This is Gil Darnell's only appearance of Season Two.
Jonathan Keltz is credited, but does not appear.
Torrance Coombs live tweeted this episode.
Megan Follows had to take a bite of over 2 dozen treats while filming.
The Duke of Guise is foreshadowing his own death when he asked Mary, "Why she hasn't assainated them while here at court is a mystery to me."
Historical Notes
Though there is no set year when sledding was invented, is was not popular in France in the mid 1500's and not practiced by the royals.
King Antoine's wife, Queen Jeanne III was never sick with a tumour and died at 43 years old. She outlived her husband by 10 years.
Queen Jeanne III died on 9 June 1572, and is rumored to have been possioned by Catherine de' Medici.
The Duke of Guise died in 1563 at 44 years old of an assassination while in a war agents Louis Condé.
Gallery
| | |
| --- | --- |
| | Official Pictures from each episode, and an additional 50 pictures gallery is available here. |
Characters
| | |
| --- | --- |
| | Character debut |
| | Speaking debut |
| | Episode debut |
Videos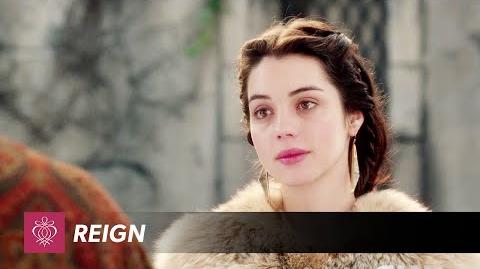 References