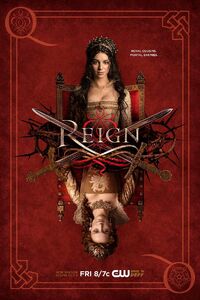 Season Three of Reign aired its first episode on October 9th, 2015, and airs on The CW and E! Canada.
Episodes
Title
Written by
Directed by
Original air date
Production code
Three Queens, Two Tigers
Laurie McCarthy
Holly Dale
October 9, 2015
301

Queen Mary struggles to hold on to her power in Scotland amidst Queen Elizabeth's campaign to sabotage her with the help of a new ally in Queen Catherine. Meanwhile, with Francis' fate at odds and Elizabeth distracted by temptation in her first love, Robert Dudley, both queens struggle to rule.
Betrothed
Lisa Randolph
Fred Gerber
October 16, 2015
302

Elizabeth must deal with the political backlash of harboring Catherine in England, while Catherine is imprisoned upon her return to France. Mary is forced to make some difficult decisions about securing Scotland's future and Lola is conflicted in her feelings for Narcisse.
Extreme Measures
Drew Lindo
Wendy Riss Gatsiounis
Holly Dale
October 23, 2015
303

When King Antoine unexpectedly returns to Court, Mary must help Francis hide his weakening condition long enough to secure his family's future. With the Throne in jeopardy and time running out, they must turn to an unlikely ally in need of redemption.
The Price
April Blair
Robert Doty
Nathaniel Goodman
November 6, 2015
304

After Mary receives an urgent message from her ailing mother about the dire situation in Scotland, she finds herself looking to Francis for aid. Catherine finds herself up against Narcisse as she fights to become the regent to Charles. Meanwhile, Elizabeth faces continued pressure to wed.
In A Clearing
Shannon Goss
Deborah Chow
November 13, 2015
305

Grateful for a future with a revived Francis, Mary considers signing away her claim to the English throne, and staying in France forever. Catherine learns that Nostradamus has returned with a new vision involving Francis' fate.
Fight or Flight
Lisa Randolph
Charles Binamé
November 20, 2015
306

Mary realizes she must help Catherine in her quest to become regent, even at the risk of hurting the alliance with Scotland. Claude is determined to help Leith marry while Elizabeth struggles with the prospect of losing Dudley.
The Hound and the Hare
Bo Yeon Kim
Erika Lippoldt
Anne Wheeler
December 4, 2015
307

When Prince Don Carlos of Spain visits France, Mary uncovers a dark secret he is hiding and enlists in Catherine to advise her on how to handle. When Gideon, the new ambassador from English court arrives, suspicions arise about what his true intentions are, while Bash's pursuit of the mysterious killer comes to a head at Greer's tavern.
Our Undoing
Gretchen J. Berg
Aaron Harberts
Lee Rose
January 8, 2016
308

Mary and Catherine deal with the aftermath of Prince Don Carlos' accident, Mary realizes that she will have to marry for the good of her country and not follow her heart. When Catherine is accused of poisoning Francis, Lola is shocked when Mary thinks Narcisse framed Catherine in order to become Regent of France.
Wedlock
Wendy Riss Gatsiounis
Drew Lindo
Norma Bailey
January 15, 2016
309

Mary becomes suspicious of Prince Don Carlos' true condition and relies on Gideon to help her uncover the truth. Elizabeth makes a shocking discovery which could change the course of her reign over England and forces Dudley to make a tough decision. Meanwhile, Narcisse forces Claude to marry someone of his choosing, against her wishes.
Bruises That Lie
P.K. Simonds
Megan Follows
January 22, 2016
310

Mary struggles to resist her feelings for Gideon as she works to align herself politically with potential allies. Elizabeth and Greer find themselves in similar heart-wrenching situations with the potential for very different outcomes. Catherine and Narcisse continue their vicious power struggle over the Regency, while Claude finds herself in the fight of her life on her wedding night.
Succession
April Blair
Charles Binamé
April 25, 2016
311

Mary must find a powerful suitor to align herself with as Charles' impending Coronation looms. Lola stumbles upon the identity of Elizabeth's poisoner, while Catherine becomes a new kind of victim for the castle's serial killer.
No Way Out
Wendy Riss Gatsiounis
Fred Gerber
May 2, 2016
312

Mary might have to sacrifice her cousin's life to save her own, as she and Gideon find themselves in unchartered emotional territory. Catherine's past returns to haunt her, while Lola and Elizabeth become unlikely allies.
Strange Bedfellow
Shannon Goss
Norma Bailey
May 9, 2016
313

Mary, in order to protect Elizabeth, unknowingly puts Gideon's life in danger. To save him, Mary turns to another Englishman for help – Robert Dudley. Meanwhile, Bash is determined to track down the men behind the threats to Catherine.
To The Death
Lily Sparks
Michael McGowan
May 16, 2016
314

Mary realizes her need to return to Scotland is becoming increasingly imminent and that along with the help of Bash, she must raise her own army to save her throne. Elizabeth enlists Lola's help to find out information about her mother, which backfires when Lola gets caught.
Safe Passage
Drew Lindo
Stuart Gillard
May 23, 2016
315

Mary learns from Lola that she has a chance to get to Scotland safely, but she must act quietly and quickly. When Catherine is framed for murder, Mary must decide if she should stay to protect her, which would jeopardize her safe passage to Scotland
Episode 16
Writer
Directer
May 30, 2016
316

TBA
Episode 17
Writer
Directer
June, 2016
317

TBA
Episode 18
Writer
Directer
June, 2016
318

TBA
New Characters
New Characters
Cast
Stars


Recurring Roles

Guest Cast
Summary
Reign begins its third season with Mary and Francis realizing that they are more powerful together than apart, believing there is hope for them to move forward, leaving behind the anger and hurt. It also introduces us to another Court, that of Elizabeth, "Virgin" Queen of England. Still early in her reign, Elizabeth faces opposition on all sides, particularly from men who doubt a woman's ability to rule. Like Mary, and Catherine de Medici, she struggles to hold onto power, and love; the women have much in common, and Mary and Elizabeth are reluctant foes, but foes nonetheless, each positioned by birth and fate to destroy all the other holds dear. - Laurie McCarthy
Production Crew
Directors Writers
Videos
Community content is available under
CC-BY-SA
unless otherwise noted.