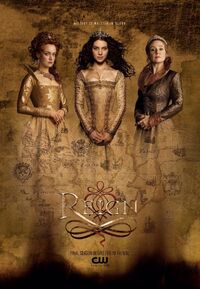 Season Four of Reign started its run on February 10th 2017 for sixteen episodes, and airs on The CW and E! Canada.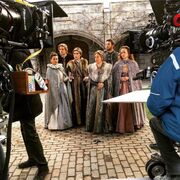 <----- Season Three ♔
Episodes
Title
Written by
Directed by
Original air date
Production code
With Friends Like These
Wendy Riss and Drew Lindo
Stuart Gillard
February 10th 2017
401

Queen Mary, unsure who to trust, tests her brother James to ensure his loyalty after hearing of his meeting with John Knox. Lord Darnley agrees to help Queen Elizabeth, in an attempt to sabotage the powerful suitor's relationship with Mary.
A Grain Of Deception
Patti Carr and Lara Olsen
Fred Gerber
February 17th 2017
402

Queen Mary discovers there is a leak amongst her advisors and sets out to uncover the traitor. Queen Elizabeth enlists in Narcisse to further her quest for supremacy. Meanwhile, Catherine takes desperate measures to regain some of the power she has lost.
Leaps Of Faith
April Blair and Laurie McCarthy
Charles Binamé
February 24th, 2017
403

Gideon shows Mary what life could be like if she chose love over country. Catherine fights to cover King Charles' increasingly erratic behavior, while Claude finds an enemy in her sister Leeza.
Playing with Fire
John J. Sakmar and Kenny Lenhart
Fred Gerber
March 3, 2017
404

When Lord Darnley surprises Mary with a visit in Scotland, Mary sees a glimmer of a union that could be more than just political. Elizabeth fights to gain allies in her favor and Catherine must work to get Claude back on track by finding her a new husband.
Episode 5
Written by
Directed by
2017
405

TBA
Episode 6
Written by
Directed by
2017
406

TBA
Episode 7
Written by
Directed by
2017
407

TBA
Episode 8
Written by
Directed by
2017
408

TBA
Episode 9
Written by
Directed by
2017
409

TBA
Episode 10
Written by
Directed by
2017
410

TBA
New Characters
New Characters
Cast
Stars

Recurring Roles
Guest Cast
Summary
Production Crew
Directors Writers
Videos
Community content is available under
CC-BY-SA
unless otherwise noted.