Wiki Targeted (Entertainment)
Play Sound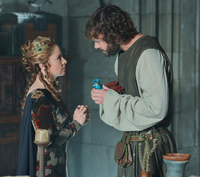 Nostradamus has visions of the future, and according to Sebastian most, if not all come true.
"That's all I was given, you know no more than I."
—Nostradamus
If Francis and Mary wed, it will cost young Francis' his life
- King Francis dies protecting Queen Mary from English assasins. [1]
"The cost of war will reach inside the castle walls"

- Sebastian is seriously wounded after an ambush when sending off troops to Scotland. [2]
'The lion will fight the dragon on the field of poppies"

- Sebastian fought Tomås in a field of poppied and killed him. Sebastian's symbol is a lion, while Tomås' is that of a dragon. [3]
"You'll meet a dark, handsome stranger.Be wary of flattery. "
- Lola met 'Lord Julien' who turned out not to be who he said he was [4]
"Life will offer many challenges, you will meet them with grace"
You'll fall in love with a man with a white mark on his face
- - At the end of the episode, Leith wipes his flour covered hand over his cheek, leaving a white mark. [2]
- - Lady Aylee drinks tea that was intended for Lady Kenna, and after getting sick is murdered by Clarissa. [5]
Nostradamus witnessed Mary and Francis in bed together talking about their children. However, they were talking about their future and were only a year into their marriage. Francis died in Marry's arms.
Nostradamus saw Olivia and a group of other people dead as the castle, all piled together.

This was The Black Plague coming to France.  [6]
References