Boba Fett Returns - The Loop
Play Sound
"Kill them, and let them burn with their sins."
—Queen Mary
Synopsis
Mary Seeks Retribution
In the aftermath of an attack on the castle, a blood-thirsty Francis makes a startling decision that will forever change his rule as the King of France, causing him to track the missing Narcisse with a newfound lust for revenge. Meanwhile, Mary is stunned to discover the truth behind Francis' recent decisions and embarks on a treacherous mission of her own with Lord Condé. Leith urgently pleads with Greer to flee the country after violence erupts across the land. Catherine receives an unexpected and erotic visit in her chambers after making a final decision regarding the fate of her daughter Claude.
Quotes
King Francis: What's Mary doing here?
Queen Catherine: She's looking for her rapiest. And if you don't catch him soon that's what she'll be doing for the rest of her life. In every room, and in every crowd.
King Francis: What can I do for you?...Are you cold... I'll fetch you a blanket.
Lady Lola: We don't care about the Monarchy, we're your friends, we care about you!
Lord Narcisse: You need me!
King Francis: Nobody needs you!
Louis Condé: Mary you're not even armed. (Mary pulls out a knife) Good Lord!
Leith Bayard: When you took my lands you said that you'd make it up to me one day. Well this is that day. I want repayment. Let Castleroy go.
Leith Bayard: People know who you are, you're still in danger here. So whatever you do..Don't come back.
Queen Mary: Kill them, and let them burn with their sins.
Queen Mary: I've had some time to think. I believe that we should lead separate lives.
King Francis: What does that mean?
Queen Mary: That we will continue to work together as King and Queen, but I will be your wife in name only.
King Francis: I can't do that. I won't.
Queen Mary: We won't be the first people in history to do so.
King Francis: If you're talking about my parents, we are nothing like them. I would do anything for you, Mary. I love you and you love me.
Queen Mary: Look where that love has brought us.

King Francis: You've cost me more then you could possible imagice. But your debt will be paid!
King Francis: Your my puppet now. And should you outlive your usefulness, I'll have you slaughtered in the dead of night.
King Antoine: That was the work of fanatics. All passion. No originatation.
Notes
12 Protestants
Jacob Rivell - suicide
2 Castle Guards
9 Assassins
2 attackers
Trivia
Gallery
| | |
| --- | --- |
| | Official Pictures from each episode, and an additional 50 pictures gallery is available here. |
Characters
| | |
| --- | --- |
| | Character debut |
| | Speaking debut |
| | Episode debut |
Videos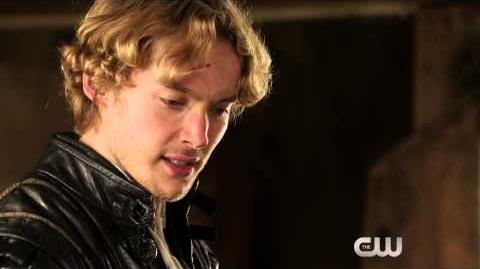 References