The wedding of Queen Mary and Prince Francis took place in
France in the early Spring of 1558.
Mary Stuart was in her room preparing for her and wedding to prince Francis. Her mother, Marie de Guise told her how happy she was and gave her earrings her father had once given to her. She reminded her to have sons as quickly as she could, even though Scotland had done just fine without any.
Wedding music played as Mary walked down the aisle towards Francis for their wedding. She was dressed in her handmade, white, and gorgeously flowing wedding dress. She walked in the aisle with a smile, as Lady Kenna, Greer Noewood, and Lady Lola walked five paces behind her. When she reached Francis they held hands as they turned to kneel before the Priest. Their wedding ceremony certificate was brought before them both. Francis signed at first, followed by Mary's signature. With that, the ceremony began.
Flowers fell from the ceiling as Mary and Francis celebrated their wedding at their reception. They began their first dance and soon her ladies in waiting joined in. Along with the rest of the wedding guests.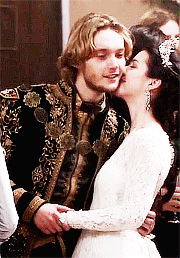 Not long after that Mary entered Francis' is room for the bedding ceremony. Royals, nobles, and their priest had all gathered to witness their consummation. However not long into it, Mary noticed Sebastian had entered. Francis saw her looking so he looked too. Wanting Francis to ignore his brother's presence, Mary continued to kiss his neck.
Mary Stuart signed a secret agreement bequeathing Scotland and her claim to England to the French crown. On April 24th, the Scottish Queen married the Dauphin of France at Notre Dame in Paris. This made Mary the future Queen of France, and Francis became king consort of Scotland.
Historical Notes
Edit
Related Pages
Edit
Community content is available under
CC-BY-SA
unless otherwise noted.