Jenny Postor

Biographical Information
Real Name:
Jenny Postor
Religion:
Catholic
Originally From:
France
Interests:
Richard Gifford
Physical Description
Gender:
Female
Height:
5'6
Status:
Deceased
Character Information
First appearance:
Three Queens
Portrayed by:
Charlotte Hegele

GALLERY
"Well, aren't you a little short to play Queens?"
—Jenny Postor
Jenny Postor played the impostor of Mary Queen of Scotland & France for weeks until getting caught.
Personality
Edit
Jenny Postor is bit vain and selfish, but she means well.
Early Life
Edit
Jenny Postor was an actress who waned to do stage. But since woman weren't allowed, her new lover convinced her to take the show on the road. They had been traveling around France for weeks collecting money and stay at nice residencies for free ever since.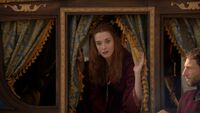 The fake King Francis, and Queen Mary stepped out of their royal carriage to an adoring crowd. They walked inside the tavern, holding a fancy bang, to collect everyone's taxes. Citing that the taxes had been raised, due to their conflict with England. After they were all done, the two fake royals stood in front of everyone, and recounted tales of royal life. At one point, Jenny Postor got stumped with a question, but the real Queen Mary helped her out. The two women gave each other and knowing smile, and later Jenny invited the two women back up to their chambers.
While in their temporary rooms, Jenny told the two women, how she and Roger De'Feck had been going across the country pretending to be the famous royal couple. The tax money they collect, they got to keep themselves, as everyone else gave them free room and board. However the conversation was short-lived when Rogers interrupted them. A fight broke out between the two, and the two women left the room.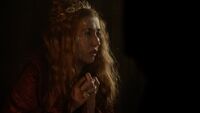 After Roger had finished beating on Jenny, Richard Gifford came in and broke them up. The real Royals were onto them, so they had to split. Not wanting any trails to lead back to them, Richard killed Rogers, and took Jenny with him.
All three Queen, both real and fake were ridding in the same carriage. The two real Queens convinced Jenny, to fight back against Richard. Even offering her a small weapon. However when she got outside, Richard quickly gained the upper hand over Jenny, and immediately killed.
After the fight was over, and Queen Mary and Queen Catherine were safe, Catherine de' Medici took her crown off the dead Jenny's body.
| | |
| --- | --- |
| | Pictures for this character from each episode they appear in are available here. |
Her last name is fiction, as she was only credited as Jenny
Community content is available under
CC-BY-SA
unless otherwise noted.