Wiki Targeted (Entertainment)
Play Sound
"You are on the cusp of loosing your country."
—Marie de Guise
Synopsis
Amy Brenneman Guest Stars
Mary's mother (Amy Brenneman) returns to advise Mary that her throne is in jeopardy. Mary makes a shocking proposition to Condé, along with a bold move to reclaim her throne. Francis moves closer to Lola after a setback with Mary, while King Antoine makes Kenna an interesting offer.
Quotes
Lady Kenna: I don't think my husband is going to approve of me helping you... I don't think he's going to come to ''your'' party.
Lady Kenna: You want to give me 300,000 gold deniers...To go shopping?
Marie de Guise: You are on the cusp of losing your country.
Marie de Guise: Either you or Elizabeth will rule Scotland and England. Make an heir and it will be you.
Sebastian: I don't think it's a good idea for me to go to a social event when the man hosting it knows I killed his brother.
Lady Kenna: How many more battles for you, and lonely nights for me until it's all done?
Queen Catherine: For the stability of the realm a king's visit to a queen's chambers must be witnessed.
Lady Lola: It was one night!
Marie de Guise: One night! Don't flaunt your bountiful womb at me!
Marie de Guise: Do you know what happens to disposable Queens?! They are disposed of!
Marie de Guise: Remember your role in her demise. I know I will.
King Francis: I don't want to live separate lives, or move on with anyone!... But you do?
King Francis: Did you come to me because you were afraid to go to him, or because you wanted to secure your rule in Scotland?!
King Antoine: Who knew vengeance could be quite so invigorating.
Lady Lola: It's nice that you're here and want to marry our son to that ugly baby!
Queen Mary: You seem me as a weapon!
Queen Mary: I am utterly alone. But when I look at you, I feel I am better for it.
Lady Lola: He didn't even offer me a bath! And he always offers a bath.
Marie de Guise: I wanted the world for you. I wanted France and England to fall at your feet.
Queen Mary: Lay down your burdens mother. So I am no longer your worry.
Queen Mary: Since I was a babe I have been a Queen. Since I was a child I have been alone, on foreign soil. I know how to keep my life, and my crown. And I will.
Louis Condé: When I'm near you, I am aware of every breath you take. And when I'm away, even the wind in the trees reminds me of you
Notes
Queen Elizabeth, James Stuart, Duke of Guise, John Philip, Prince Charles, Prince Henri, and King Antoine's wife, Queen Jeanne were all mentioned but do not appear.
There was no opening song for this episode.
Two months have passed since Mary's rape.[1]
The Duke of Guise's high treason agents the crown is covered up in light of his murder.
King Antoine left a ruby for Lady Kenna along with the strawberry's from the previous night.[2]
John Philip is engaged to the daughter of The Duke and Duchess Von Amsberg, related to the famous Habsburgs.
Sebastian's accident involving Tomás of Portugal the previous year is brought up,[3] along with his old feelings for Mary. [4] However his also warned about someone's death who is close to him.
Marie de Guise announced she is dying, presumably cancer.
Mary Stuart announces she wants to return to Scotland.
Mary confesses to Louis Condé she has feelings for him too.
King Antoine wants to marry Kenna once his wife passes away.
Queen Elizabeth wants to marry Louis Condé.
The drug Lola accidentally drank was Opium.
Trivia
The episode synopsis was released on January 30, 2015.
This was Amy Brenneman's first appearance of Season Two.
This marks the first time ever two episodes in a row were written by the same people.
Though Jonathan Keltz and Rose Williams are credited, they do not appear.
Historical Notes
Gallery
| | |
| --- | --- |
| | Official Pictures from each episode, and an additional 50 pictures gallery is available here. |
Characters
| | |
| --- | --- |
| | Character debut |
| | Speaking debut |
| | Episode debut |
Videos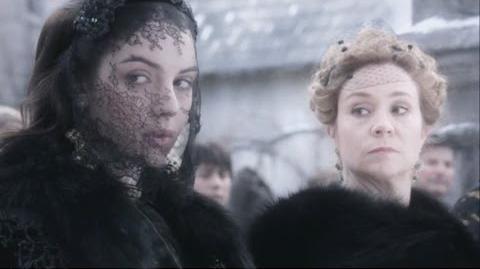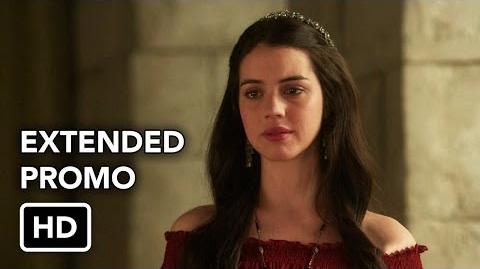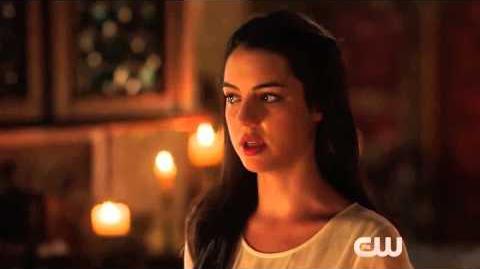 References