Wiki Targeted (Entertainment)
Play Sound
"Innocent men won't die alone. You won't die alone."
—Louis Condé
Synopsis
Mary Suffers The Consequences of Her Actions
In the aftermath of the Plague, a powerful Lord (Craig Parker) discovers that Mary was responsible for the death of his son and demands vengeance, testing the loyalties of Mary, Francis and Catherine.
Francis returns to the castle with Lola and their newborn son, creating tension with Mary. Greer is torn by her loyalty to her fiancé, Lord Castleroy, who blames Leith for his daughter's demise. Meanwhile, Kenna urges Bash to be formally recognized in his new role.
Quotes
Queen Catherine: One bedroom for husband and wife? Good luck to both of you with that.
King Francis: I don't want to hurt you, but I don't want to repeat history
Queen Mary: Then don't!
Lord Narcisse: We are the outside world, and we surround you.
Queen Mary: Out of all the people you could have slept with, did it have to be one of my ladies? One of my closes friends?!
Louis Condé: If you bow to Narcisse now, you'll be doing it for the rest of your rule.
Greer Norwood: I pray the day will come, when I no longer regret that I loved you.
Leith Bayard: ...And if you go, don't come back.
Nostradamus: Are you going to share your plan with me?
Louis Condé: Innocent men won't die alone. You won't die alone.
Nostradamus: You think you're untouchable, that your sins will stay buried, but they don't.
Lord Narcisse: We'll see who's death is more painful. Yours, or my sons.
Nostradamus: I've seen your death. You suffer too.
King Francis: I don't like you-
Lord Narcisse: I don't care!
Queen Catherine: He will never be king, but he might be your only chance at being a father and I can promise you that raising him will be the singular joy of your life.
Notes
Trivia
Historical Notes
Catherine remarked how odd it was for Francis and Mary to share their chambers. It was incredibly rare for royal couples to share their private rooms.
Gallery
| | |
| --- | --- |
| | Official Pictures from each episode, and an additional 50 pictures gallery is available here. |
Characters
| | |
| --- | --- |
| | Character debut |
| | Speaking debut |
| | Episode debut |
Videos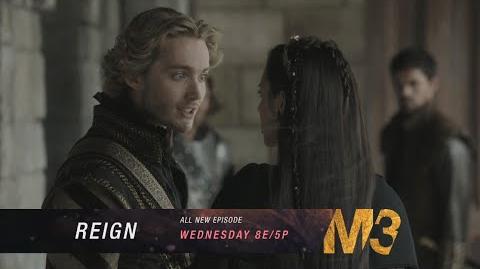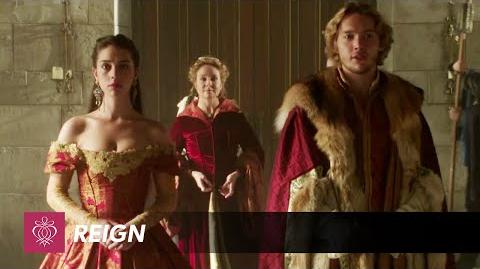 References