Wiki Targeted (Entertainment)
Play Sound
"Long live the King. Long live the Queen"
—Crowed
Synopsis
[
]
Mary Oversteps Her Bounds
With France in a state of famine, as well as religious and political unrest, Mary looks for a way to feed the people, risking the wrath of a vengeful Lord Narcisse. Francis is preoccupied by the harrowing suspicion that his dead father's spirit can possess the living and is haunting Francis as revenge for his murder. As Catherine makes excessive and lavish preparations for a coronation ceremony to give the impression of stability to the realm, Bash confronts the reality of a country plagued by fear, bankruptcy, and murder.
Quotes
[
]
Queen Catherine: Truly Francis I don't know why she is in this conversation. Didn't you promise the nobles you'd muzzled her?
Queen Catherine: The man controls 90% of the grain in this regain, and in a famine that's not just wealth, that is power.
Nobel's Wife: And the King's new child, properly claimed. You must be so happy.
Lady Lola: I suppose I must be.
King Francis: And it won't hurt to show the nobles, many twice my age, that if you obey me, they can too.
Queen Mary: Are all powerful men so insecure?
King Francis: A few. Many...Most.

King Francis: Lord Narcisse. Are you well? I didn't hear back from you and expected an answer.
King Francis: There's plenty of time until then.
Queen Mary: Tell that to the people starving at our walls.
Queen Catherine: But how can I possibly help you? I'm irrelevant.
Lord Narcisse: An advisor of my choice, or regrettably there is no deal.
Queen Catherine: I shall get my grain elsewhere.
Lord Narcisse: You didn't come here because your heart bleeds for your starving countrymen. What are you hiding?
Queen Catherine: Perhaps I'm hiding a bleeding heart.
Queen Catherine: What are you doing out here? There's a party inside to celebrate the new King.
Lord Narcisse: And Queen
Queen Catherine: Her too.
Notes
[
]
French Citizen
Lady Doisneau's Husband.
Goof
During the scene between Catherine & Narcisse, a skyscraper can be seen in the background of the park.
Trivia
[
]
Coronation landed 1.36 million viewers and a 0.5/1 rating in the target demo, which was up from the previous week.
The red boats from The Boating Party can be seen at the start of the episode in Tent City.
Toby Regbo said that the crown made for him was too big and needed to be re-sized to fit around his ears.
For The Coronation, Queen Mary's and King Francis' looks were created and designed by Meredith Markworth-Pollack. The fabric from Mary's dress, was also used for Francis's vest. [3][4]
Mary wears gold-plated, Swarovski crystal chandelier earrings from designer Vicki Sarge, valued at $214.00 [3][4]
Inspiration was taken from England's Queen Victoria's 1838 Coronation.
Both crowns used during the coronation scene were very heavy.
Catherine's necklace is from Oscar de la Renta and her crown was from Deborah Moreland [5]
Historical Notes
[
]
Francis was crowned on September 21, 1559.
Thoughout her time as Queen, and Queen Mother, Catherine enjoyed throwing banquettes so much, and creating such extravagant parties that the Kingdom of France annually held Catherine de' Medici's court festivals. She did this from 1547 to 1559 as Queen, then as Queen Mother from 1559 until her death in 1589.
Gallery
[
]
| | |
| --- | --- |
| | Official Pictures from each episode, and an additional 50 pictures gallery is available here. |
Characters
[
]
| | |
| --- | --- |
| | Character debut |
| | Speaking debut |
| | Episode debut |
Videos
[
]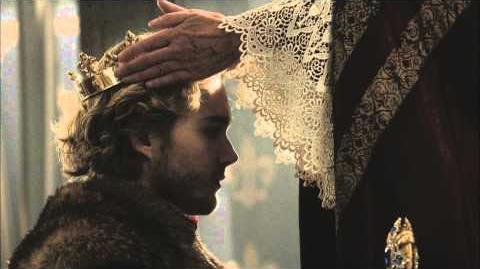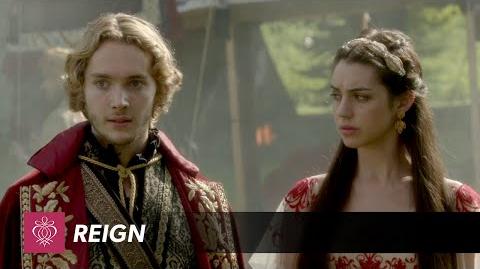 References
[
]